Bichon Frise Dog Training &
Bichon Frise Breed Information
The Bichon Frise is a wonderful companion breed, suitable for single apartment dwellers or families.

The cheery, lively attitude of the Bichon Frise will endear itself to its owners. Originally bred as a fluffy lap dog, it can still fill that capacity. However, it is sturdier than its tiny size would indicate, making it a better companion for those with children and other pets than many other toy breeds. The Bichon can relax with people on the couch, and then display enough energy to keep up with more active types.

The little Bichon Frise is perpetually cheerful and buoyant. They are intelligent, charming, easily trained, and they bond very closely with their human family. These bright little dogs seem to have a sense of humor, and can always manage to have a good time.

A well-bred Bichon Frise is a true joy to have around. They are energetic but even-tempered, feisty but easy to train, bouncy but quiet. This little breed might be considered the total package by many dog owners who enjoy lots of personality in a small package. The intelligence and charm of the Bichon Frise is undeniable, and perpetually appealing.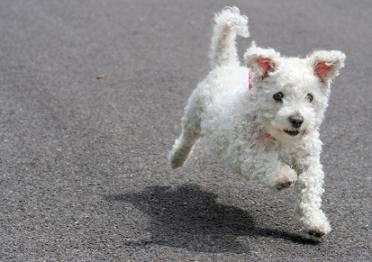 History of the Bichon Frise Breed
The Bichon Frise has enjoyed popularity among the highest and lowest of society at different periods in its long history. Although it appears to be a simple, innocent little ball of white fluff, it has had a varied and diverse ancestry. The breed appeared as early as the 13th century, bred from a water spaniel and perhaps the Poodle.

The Bichon breeds were used as both companion dogs and currency, being traded everywhere by the Spanish sailors who carried them on their ships. The Bichon eventually reached its heights by finding favor as a lap dog of the European aristocracy in Italy, France, and Spain. It even appears in the paintings of members of the Spanish courts.

The Bichon slowly declined, but the spirited disposition of the breed kept it alive throughout the centuries. By the 19th century, it was found among the lower social orders. The little Bichon Frise was a common organ grinder's pet and circus dog, where its clownish antics delighted audiences.

The Bichon Frise is now most popular as a show dog, and as a companion dog. Throughout the 20th century it has been increasingly appreciated as an excellent household pet, and was recognized by the national kennel club of France in 1933, and of America in 1973.
The Bichon Frise Appearance
The word "Bichon" essentially comes from an old term that means "little white fluffy dog" in French, and this appearance has changed very little throughout the years. It can be mistaken for a toy Poodle or Maltese. The Bichon Frise is all or mostly white, with a thick, soft, fluffy, curly double coat. Occasionally, buff or peach markings are seen on the face. The coat needs frequent grooming maintenance, but the advantages of a non-shedding dog make this breed preferable to many owners.

The Bichon Frise is a toy-sized dog, standing between 9 and 12 inches at the withers (top point of the shoulders). Despite its small size, the Bichon is sturdy and well-built. It has a medium-boned and nicely balanced body - they are good little athletes.

The happy and playful attitude of the Bichon Frise shows in its appearance. It has dark-brown to black eyes glinting out from its fluffy light fur. Its lively and light movements while walking or running reveal the good energy possessed by this cheery little dog.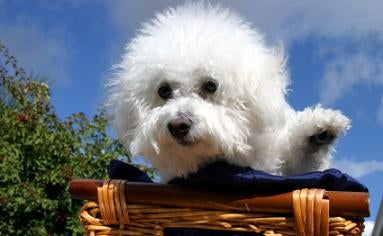 The Bichon Frise Temperament
Even more than its appealing looks, the most outstanding characteristic of the Bichon Frise is its remarkably good temperament. No two dogs are exactly alike, but certain characteristics of behavior are common to animals of the same breed. It is important to note here that these breed characteristics will only be consistent among carefully-bred animals. A reputable breeder must be found in order to prevent numerous health and temperament problems.
Bichon Frise dogs have a charming temperament that can be fully realized by proper training. They are extremely friendly, and should be free from any aggressive tendencies. They are so friendly that they usually get along with the whole family, including children and other pets.

Another thing that makes these dogs good around children is that they are not as delicate as they appear, and so reasonably behaved children and pets will not endanger the dogs.

These dogs have plenty of energy, and need regular exercise. However, they also tend to be even-tempered, so they are not usually nervous or hyper. Their size makes exercising relatively easy, whether they go for walks or runs. Some of their exercise can come from playing indoors.

Unlike the "annoying small dog" stereotype, the Bichon Frise does not tend to bark too much. A well-bred and well-trained Bichon will not be a yappy dog.

Bichons are intelligent and easy to train. They love to show off and to perform tricks. They bond so closely with people that they are eager to please, and can focus solely on training.

Another aspect of their close bond with people is that they need regular companionship. This is not a good dog for owners who want to keep pets outside, or who cannot spend much time with the dog.
The cheerful personality of the delightful Bichon Frise will endear this animal to everyone.

Bichon Frise Health Information
Bichon Frise dogs are generally quite healthy. It is important to go through a reputable breeder and to consult your veterinarian about health information. Puppy mills and many backyard breeders will produce and sell puppies that have numerous health problems. Well-bred dogs of this breed, fortunately, have few health concerns.

The most common health problems affecting Bichons are not usually life-threatening. The most common problem encountered in this breed, as in other white dogs, is allergic reactions. These issues usually manifest themselves in dogs as skin problems, such as itching. Most of the time, a veterinarian can help to instruct you to keep these problems under control with shampoos and topical creams. More severe cases sometimes require steroid medications.

Bichons can also suffer from a problem that commonly affects small dogs - tooth decay. This can start as a minor problem, but if allowed to become severe, can be very harmful to the health of your dog. Regular care, such as brushing of teeth, with periodic dental cleanings, can prevent this issue and is an essential part of owning a Bichon.

Other problems occasionally seen in the breed are an autoimmune disorder affecting the lungs, and cancer in older dogs. However, you could say that cancer in old dogs is common to all breeds. Patellar luxation (slippage of the kneecaps in the hind legs) also sometimes affects this breed. A healthy Bichon can live 14-16 years. Some dogs have lived as many as 18 years.
Bichon Frise Training
The intelligent, friendly, and attention-loving Bichon is a relatively easy dog to train. These dogs are eager and willing. They are also somewhat sensitive, so harshly corrective training methods are not suited to this breed. They respond extremely well to positive, rewards-based methods, and will pick up tricks and basic commands quickly. I suggest using the highly effective clicker training techniques when training your Bichon.

One behavior that should not be encouraged is sometimes called "small dog syndrome". This happens when owners treat their cute little pets more like dolls or babies than like dogs. Constant cuddling and carrying the dog around can create a nervous, anxious, snappish animal that is constantly challenging people. The Bichon is an adorable little dog, but beware that it should not be treated as a fragile toy.

As with most small dogs, housetraining can take a bit more effort than with other breeds. Prepare to bring a new dog into a very consistent routine of frequent potty breaks, and always use positive reinforcement to help guide your puppy. It is not true that dogs of this size cannot be housebroken. It just takes some awareness that their tiny bladders need frequent relief. The younger the dog, the more attention they will need in this area.

If you learn a few proper training methods, these few problems can be avoided. As with any dog, basic commands like sit, down, recall (come), and "leave-it" will give you and your pet a good foundation for nice behavior and safety. Finally, it is important to teach the Bichon to walk nicely on a loose leash, and to use a harness. The tiny neck and throat of toy breeds can be harmed by straining and pulling.

Overall, the cheerful and friendly Bichon Frise is a joy to train, and to have as a member of the household - they are beautiful little dogs.



---